Have an old computer, monitor, or printer sitting around taking up valuable space in your house?  You can now easily recycle them by dropping them off at your closest Staples Office Supply, no matter where you originally purchased them.   
See the details below, or go to their website at this link http://www.staples.com/sbd/content/about/soul/recycling.html .


Recycling
We make it easy for our customers to recycle by offering a variety of services, including options for recycling computers and office technology products, ink and toner cartridges, cell phones and other personal electronics, and rechargeable batteries. In our internal operations, we are committed to diverting materials from the waste stream.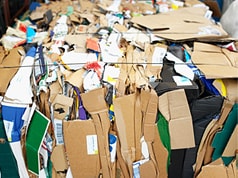 Computer and Office Technology Recycling
Retail customers can easily recycle their e–waste by simply bringing their used computers, monitors, laptops, and desktop printers, faxes and all–in–ones to any U.S. Staples store. Staples collected and recycled more than 6 million pounds of technology products in 2008 from our U.S. retail customers.

All brands of office technology products are accepted for recycling, regardless of whether the equipment was purchased at Staples. Dell® branded office technology items are accepted for free at Staples stores nationally. All other brands of computer monitors, desktop and laptop computers, printers, scanners, all–in–ones and fax machines are accepted for a $10 fee. The recycling fee is charged to cover handling, transport, product disassembly and recycling. Smaller computer peripherals such as keyboards, mice, and speakers are accepted at no charge.

Equipment is bagged and sealed when received at the Staples customer service desk. The equipment is then picked up and delivered to our recycling provider, who uses industry–leading standards for data destruction and disassembles the equipment into its component parts for environmentally responsible recycling.
Ink and Toner Cartridges
In 2008, Staples recycled more than 22 million cartridges in the U.S. through our various ink and toner cartridge recycling programs. Retail customers can recycle any ink or toner cartridge, up to 10 per calendar month per customer, and receive $2 back in Staples Rewards per cartridge.
Personal Electronics
We offer free recycling service programs to our customers for mobile phones, PDAs, pagers, digital cameras, and chargers through our partner Collective Good. We also offer free rechargeable battery recycling to customers in the U.S. and Canada. This service is offered in partnership with the Rechargeable Battery Recycling Corporation.
Internal Recycling Efforts
We recycle many items as part of our internal operations, including cardboard, mixed paper, plastics, fluorescent lamps, ink and toner cartridges, and personal electronics. We became a U.S. EPA WasteWise program partner in March of 2005 and look forward to continuing to expand and improve our waste diversion opportunities. In 2008, Staples recycled more than 36,000 tons of cardboard and mixed paper and 500 tons of plastics in the U.S.