Press Release issued March 2, 2011 - As seen on American Banking & Market News and the San Francisco Chronicle websites
_____________________________________________________________
"How to Avoid Remodeling Nightmares and Hire the Best Contractor for Your Project" - Free Report Available from Uniquity Builders, Inc.
When business is slow and contractors and handymen are jobless, home improvement scams abound. Homeowners need to know how to protect themselves and hire the best contractor for remodeling and home improvement projects. This free report gives homeowners details on how to avoid remodeling nightmares.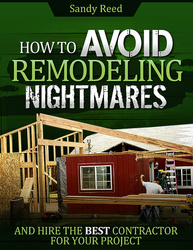 Valley Springs, CA (PRWEB) March 2, 2011
Stories about remodeling and home improvement fraud are in the news and on the web daily. Scams, such as those below, are hitting homeowners hard, when they can least afford to lose money.
"He wanted full payment upfront for our remodel, and he said it would go into an escrow account. " Six months later the contractor is yet to finish the work, or even start construction on part of the project. (http://www.whotv.com)
"Suffolk County Police have arrested a Moriches man for stealing $4,000 from a victim in a home improvement scam and for operating a business with a revoked license." (Smithtownradio.com)
Spring is the time when homeowners are ready to start remodeling projects, and scammers begin to surface across the country. Organizations, such as the Contractors State License Board, provide educational resources to help homeowners be aware of how contractors are required to conduct business.
Uniquity Builders, Inc. has written a comprehensive free report, "How to Avoid Remodeling Nightmares and Hire the Best Contractor for Your Project". It's available free on their website at http://www.uniquitybuilders.com or on their Green Building and Remodeling blog at http://www.greenbuildingandremodeling.com.
This free, downloadable report will answer the following, and more.
What red flags to look for when starting to interview contractors.
How to find out if you're interviewing an honest contractor.
What you should ask the contractor's references.
What to look for in the contractors' cost proposals.
What Contractor's License Law says should be included in all written cost proposals.
What you should and shouldn't give the contractor as a down payment.
How to protect yourself from liens against your property.
When it's illegal for a handyman to perform work on your property.
How to get through the remodeling process with less stress.
Although most contractors are honest, hardworking individuals, homeowners should always practice due diligence and take the time to learn the warning signs that will help avoid remodeling nightmares.
For more details, visit the Uniquity Builders' website at http://www.uniquitybuilders.com or contact Sandy Reed:
Contact: Sandy Reed
Company: Uniquity Builders, Inc.
http://www.uniquitybuilders.com
Phone: 800-498-1833 or 209-772-9200
Uniquity Builders, Inc. designs and builds custom homes, remodels, and additions in the San Joaquin Valley, and the Motherlode areas in Northern California. William E. Reed (Bill), General Contractor/Electrician has been building over 25 years in the area. Formerly an AT&T Project Manager, he was the Project Coordinator for the one million square foot facility, the AT&T Center in Pleasanton, California. He is a "people" person, and enjoys meeting with customers and helping them create a unique and comfortable home environment. He and his wife and business partner, Sandy, have been working together in the business since its inception in 1985. Look for Uniquity Builders on Facebook.